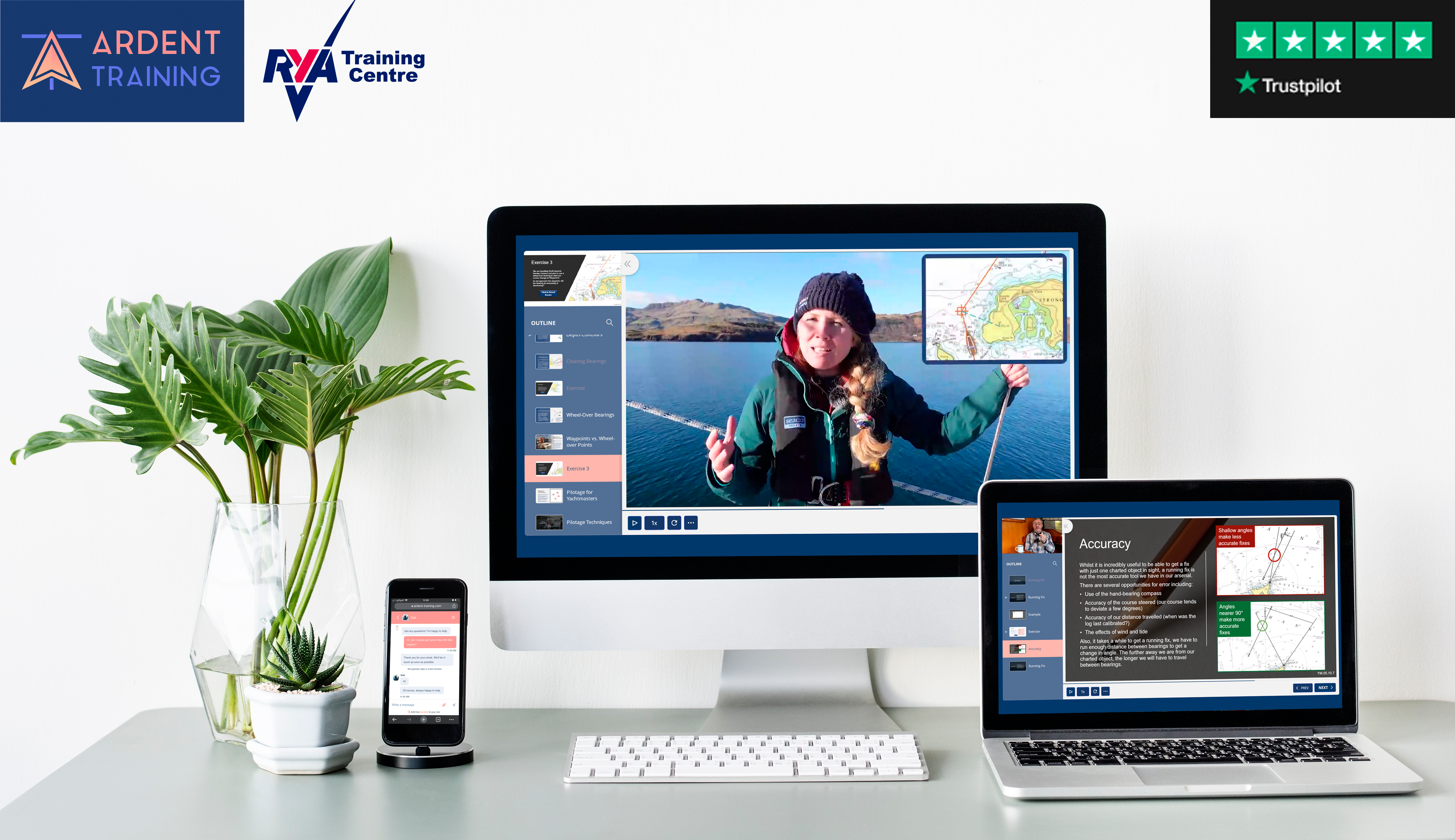 WHICH IS THE BEST ONLINE RYA THEORY COURSE FOR YOU?
When it comes to selecting the best online RYA (Royal Yachting Association) theory course and finding out which is the best course for you, the "best" option is subjective and entirely depends on your individual needs, prior knowledge, and goals. Here, we will outline some key features that you might want to consider when comparing different online RYA theory courses.
Remember we aren't talking Day Skipper vs Yachtmaster, we are looking at what makes the most engaging and enjoyable rya courses, and how to pick a provider for your training.
Comprehensive Content
The course content should be in-depth and comprehensive, covering all the theory you need to navigate safely on the waters, not just designed to tick the boxes for the qualification. Look for courses that concentrate on your deeper understanding rather than retaining facts.
Which Content Format
Different people prefer different learning styles. Some may prefer video-based learning, while others might find written material easier to digest. The ideal course should cater to various learning styles with a mix of video, written, and interactive content. Ideally, you should be able to complete the entire course in your preferred format (e.g. video) with other options as backup (e.g. text).
Engaging Learning Tools
Courses that provide interactive learning tools like video content, and quizzes, can significantly enhance your learning experience. These tools can help you better understand complex concepts and keep you engaged throughout the course.
Best Student Support
The availability of instructor support is another crucial factor to consider. Good online courses offer prompt and effective instructor support to answer queries, give feedback, and provide guidance. You will want your question answered whilst it is fresh in your mind, not 24 hours later.
Which Instructors
The instructors should be highly qualified, experienced, and able to explain complex concepts in a straightforward, relatable manner. Look for instructors with real-world sailing experience.
It is also important to know who your instructors are, and for them to know who you are. Effective teaching is tailored to individuals, and building a rapport between instructor and student is vital to your success. Get in touch with the instructors before you sign up, and say hello.
Learning Pace
Some learners prefer a structured, time-bound approach, while others might prefer a flexible learning pace. Check if the course allows you to learn at your own pace and provides enough time for you to complete it.
Realistic Practice
The best courses offer realistic practice exercises and mock tests that mirror the final exam. These can help you build confidence and prepare effectively for the assessment. The confidence and experience gained from a mock exam is key to ensuring everything goes smoothly on the day.
Quality of Course Materials
Any physical course materials provided to accompany the course should be high-quality. Nobody wants cheap bits of kit lying around after the course. It is better to have professional quality tools from day 1 that will last for life.
Accessible Content
The course platform should be easy to navigate, and the course materials should be accessible on multiple devices, including smartphones, tablets, and computers. This allows you to learn on the go and fit your studies around your schedule.
Best Value for Money
When considering the cost of the course, factor in what's included in the price. This may include course materials, postage, tutor support, and exam fees. It doesn't always pay to choose the cheapest, these are long courses and it is overall value for money that you want to be paying attention to. A £350 course that you finished is better than a £250 course that you don't.
Best Reputation
Consider the reputation of the course provider. Look for providers with positive student testimonials and a proven track record in delivering quality training.
Which Certification
Lastly, make sure the course leads to a recognised certification that will be accepted wherever you plan to sail.
So, Which Is the Best Online Rya Theory Course for You?
Ultimately, the answer to this question is highly individual, as everyone has different needs, preferences, and learning styles. When choosing an online RYA theory course, it's important to reflect on what matters most to you. Do you prefer a highly interactive course, or are you more comfortable with text-based learning? Does the reputation of the course provider matter to you, or are you more focused on the cost? Given the length and commitment of these courses, it's crucial to ensure you're making the right decision.
A good way to do this is by making use of any available free trials. These trials allow you to explore course materials, test out the learning platform, and get a sense of the overall quality of the course. In addition, reaching out to the instructors or support staff can give you an idea of the level of support you'll receive during your learning journey. Don't hesitate to email, try the live chat, or make a call to ask any questions you may have.
Here at Ardent, we understand the importance of making an informed decision. We would rather have less students, and make sure that every single one has picked us because we offer the right course for them. That's why we offer a free trial for you to get a feel for our courses and learning environment. We also provide live chat with our instructors within our free trial, so you can get instant responses to any questions or concerns. Ready to find out if our course is the right fit for you? Try our free trial today!