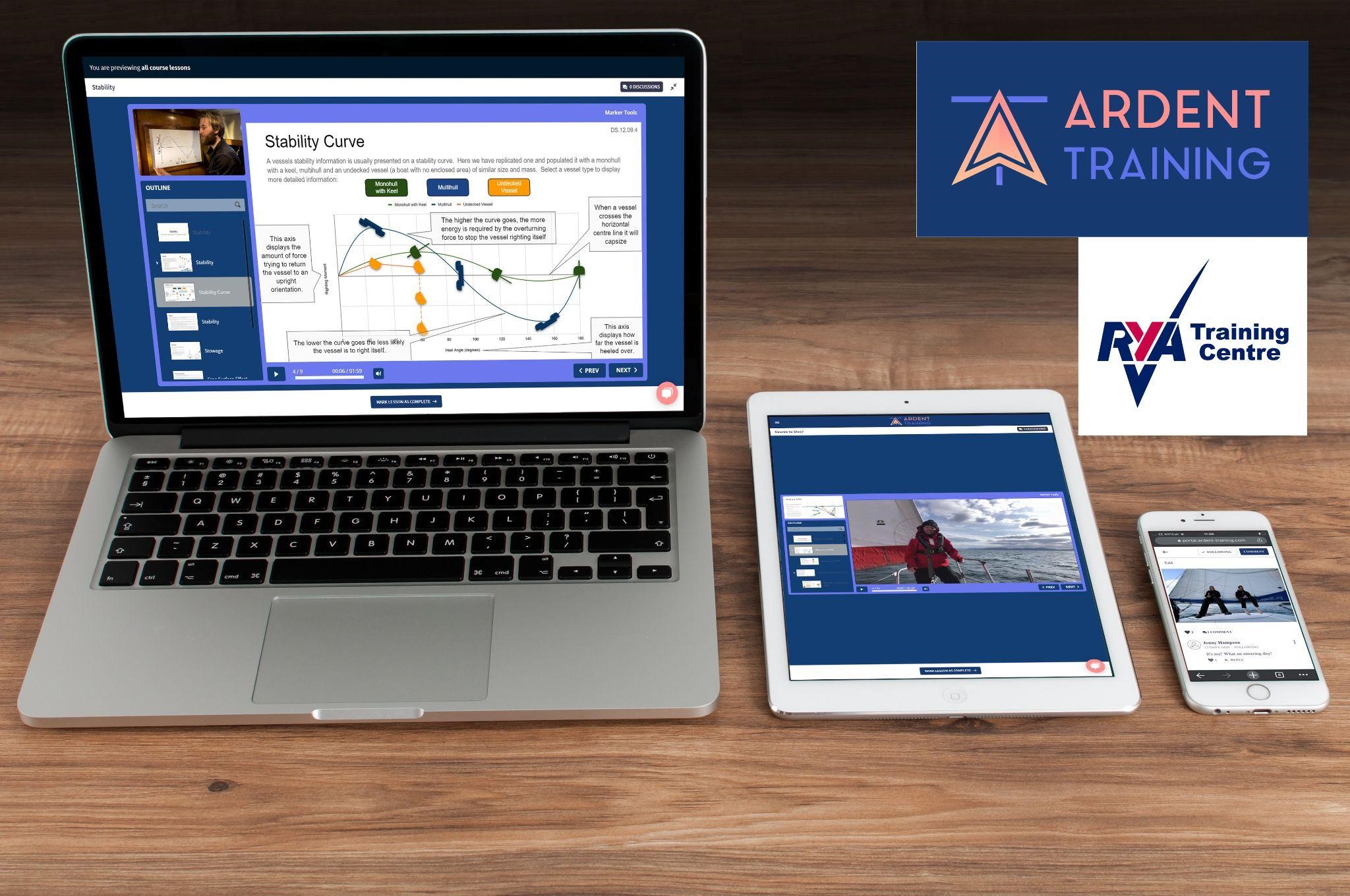 Can You Really Learn to Sail Online?
The benefits of taking your RYA course online vs. classroom study. Can you really learn to sail online?
You're on the path to getting trained up! You've made an excellent decision in seeking professional training – it's not uncommon for people to underestimate how much there is to know about the sea, boats, weather and safety, and so sadly, a lot of folks get caught out sooner or later and end up in either some scary scenarios, needing to be rescued or needing to phone their boat insurance! The problem is – they don't know what they don't know until it's too late. Now, with claims that you can learn to sail online, is there really any excuses?
The next question is: Why do we need to decide between online and classroom? Aren't we learning to drive a boat? Well, yes. You will need practical lessons on a boat, but a bit like taking your driving test, there is theory to learn too. Learning to navigate, learning about the weather, tidal heights and tidal streams all require quite some concentration and realistically, a flat surface and a room that's not rolling around!
E-learning gives retention rates of 25-65% vs. 8-10% in face-to-face training.
With E-learning students learn approx 5 times more material without increased time spent in training.
Since the year 2000, the growth of e-learning has been 900%.
(https://www.shiftelearning.com/blog/bid/301248/15-facts-and-stats-that-reveal-the-power-of-elearning)
Most people with ambitions of driving a yacht start with the RYA Day Skipper theory course followed by their RYA Day Skipper practical. This is a great place to start since it will take you right from basics to your first trips as a skipper. No experience is mandatory, but having at least a few days under your belt will definitely be an advantage.
If you need more information about which sailing course is best for you, then check out our other blog: How to Get Qualified With Sailing Courses
Ok, before we go any further, it's time for us to be honest. You may or may not know, (full disclosure), we sell online theory sailing courses. So, you are likely to think this blog will be totally biased. But, I have taught in both environments and I can honestly say that every student is different, and for some, the classroom WILL be better, and others will have a better experience online. I will do my best to give you just the facts and the most unbiased blog that I can!
Learning To Sail in the Classroom
Most sea schools and RYA training centres will have a classroom of some sort attached for running their RYA theory courses. They vary in quality, with some being cold, leaky sheds and others being fully kitted out with interactive whiteboards and free biscuits. If you are booking a classroom course, make sure you work out if drinks and refreshments are provided. Or else it could be a long first day with no food and no caffeine!
Here is how the classroom experience usually pans out…
You search local sea schools, find one that does the class you want, when you want and you book on. It's not cheap, usually on the higher side of £500. Then you need to book some accommodation, work out how you are going to get there, where you'll park, and work out what and where you are going to eat.
You get there on day one, bright and early with your sharpened pencils, and find a desk that will be yours for the duration of the course. You'll meet your instructor and your classmates, and over the next few days, hopefully, you'll develop a good relationship with them. One of the best things about RYA classroom courses is networking. You'll meet folk from all over the country and probably from a wide range of backgrounds and experiences. RYA courses cover leisure and professional sailors so you'll meet all kinds of people, such as boat owners, ferry workers or wind farm workers, superyachties and volunteers who work for sailing charities. There's a really diverse group of people out there who need to learn to sail or motor for some reason or another and it usually makes for an interesting class dynamic.
Most students enjoy the company and liveliness of having others around them. It can be nice when you reach the tougher subjects, to see that you are not alone, and on lunch breaks, you might decide to pair up and test each other for revision. Others might be shy and actually find it embarrassing to try and learn in an environment where others can hear them when they ask questions to the instructor. Of course, there is never a stupid question, but some people are naturally just very self-conscious and studying with strangers can mean they don't ask for help when they need it.
The courses (RYA courses at least) are quite intense. The Day Skipper Theory course is recommended as a minimum of 50 hours long, and if you do it over 5 days from 9 – 5 with an hour for lunch and 2x 15minute coffee breaks on either side, you'll have only clocked 32.5 hours with your instructor. How does that work out then? Well, as you can imagine, it's usually quite a rush and involves a lot of homework in the evenings plus some pre-course study. It can be stressful for the instructor to keep the class on target and not waning off on tangents for too long. Most adults are not used to concentrating or learning for so many hours a day and find it difficult to take in all aspects of the course this way. As soon as a PowerPoint presentation or video is used at the front of the class, there will almost certainly be one or two students showing the tops of their eyelids. Obviously, this level of tiredness isn't great for information retention, and at the end of the week, many students will find they have a few weak patches when it comes to the exam. If a student needs to retake, they will need to find another day when the instructor is available to take and mark a resit paper. This will of course bring more cost and time.
Although the pass rates are still high, the long term retention of knowledge is usually low. This means that when students turn up to their RYA practical courses, much of what they learned in the theory course has been forgotten.
It sounds like I am being a negative Nellie on the classroom courses here and possibly being a bit biased, but the truth is, for some people this is the ONLY way they will finish a theory course. If they do not have a teacher standing over them, they will never muster up the motivation or self-discipline to learn for themselves.
Classroom environments are fit for purpose in a way most people's front rooms or spare rooms or garages never will be. A large desk, a bright room and surrounding oneself with other motivated individuals is a sure way to make the most productive use of your time. So, if you have a busy lifestyle then this might be the most convenient way to achieve your goal.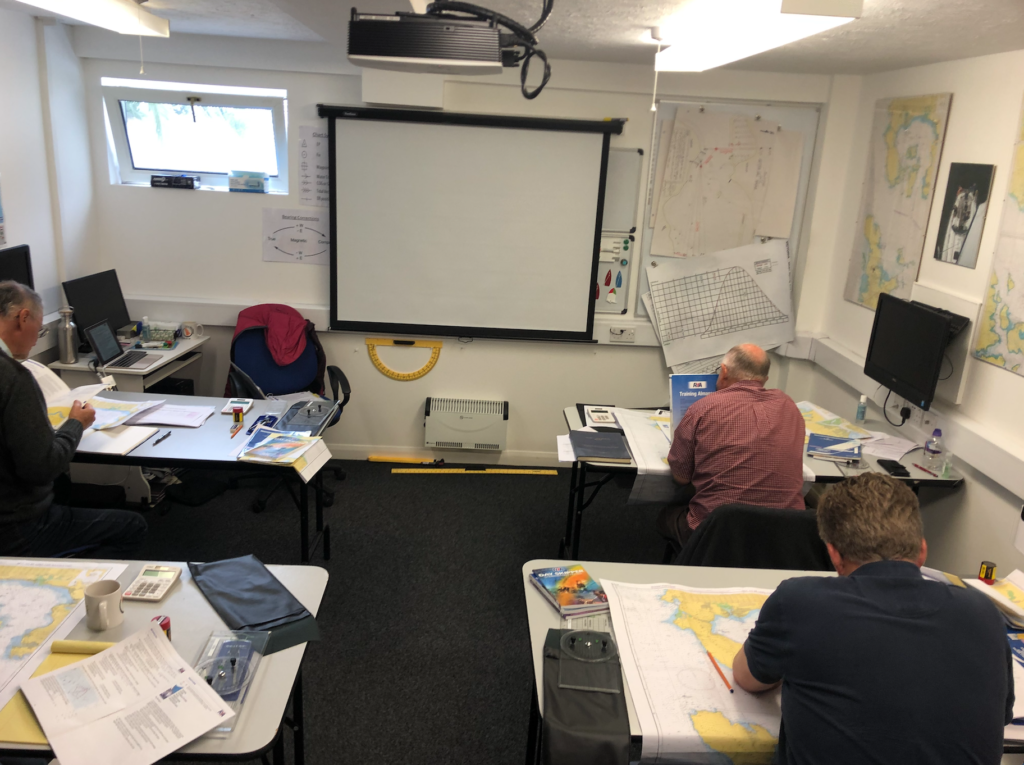 Learning To Sail Online
Here's the other version of the events. You have faithfully paid your money online, and booked on for a virtual course. It was cheaper but by no means 'cheap'! Averaging at about £250-£300, an online theory course is still an investment. We're going to be talking about the 'learn at your own pace' style of online courses here, which are self-study, not the zoom-style ones which are much the same as classroom courses (but without many of the benefits of the classroom!).
Once you've paid or booked on, your books, charts and instruments will usually be dispatched in the post. There are often a couple of lessons you can take whilst waiting for your physical pack to arrive. The benefit of a home-study course is that the instruments are sometimes included free of charge (they are with Ardent Training at least) and they are yours to keep!
Then, it's all up to you! You can either smash through it in a week or with some providers (Ardent Training included), you can spend up to a whole year doing the course. We'd recommend completing it over a 2-3 month period if you are doing it part-time, just so that your knowledge from the beginning of the course doesn't fade by the time you reach the end!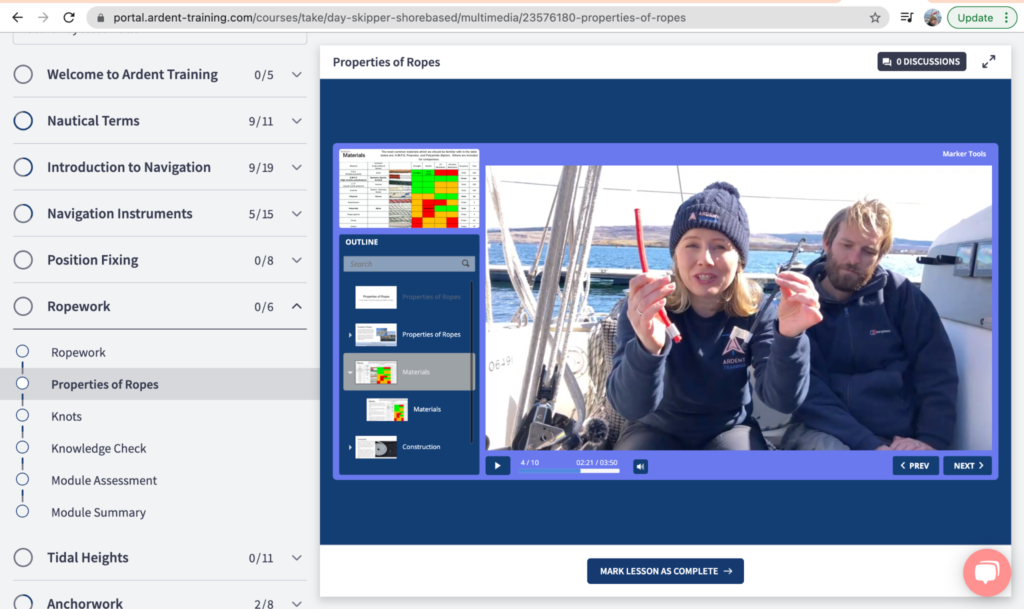 In my opinion, the biggest advantage of studying at your own pace is the increased knowledge retention. More students have the confidence to ask questions because of the anonymity. There's no risk of being left behind because no one is forced into a schedule. If one part is difficult, you can re-read it or re-learn it several times until you have it fully digested. You can also study when your brain is best engaged. This might be in the evenings, on weekend mornings or on your commute to work. If you're too tired, don't study! Simple!
Another benefit to not being tied to a schedule is that to a certain extent you can pick and choose when you take each subject. Eg. If you have had a mentally tiring day and want to do something more practical, you could pick up ropework rather than tidal calculations.
However, the greatest perk about online learning has to be the individual attention from instructors. They are not worried about keeping a whole class engaged or entertained whilst dealing with your question, so they can take the time to respond to your questions in detail if required. Watch out though, some companies do not have dedicated instructors for their theory courses. Instead, they are also employed as practical instructors on the water. So it could be several hours or days before they respond to you. (I tested this with a few companies when starting up Ardent Training.) It's worth shopping around for a course that has dedicated instructors available on any day or hour.
What about the social aspect? I said that there was a big benefit to meeting other people with other experiences in the classroom. Well, learning online doesn't have to be a solitary experience, Ardent Training has unique features which are designed to bring back some of the casual on, or off-topic discussion and networking that you would usually get in a classroom to your screen. A bit like social networking but for sailing students.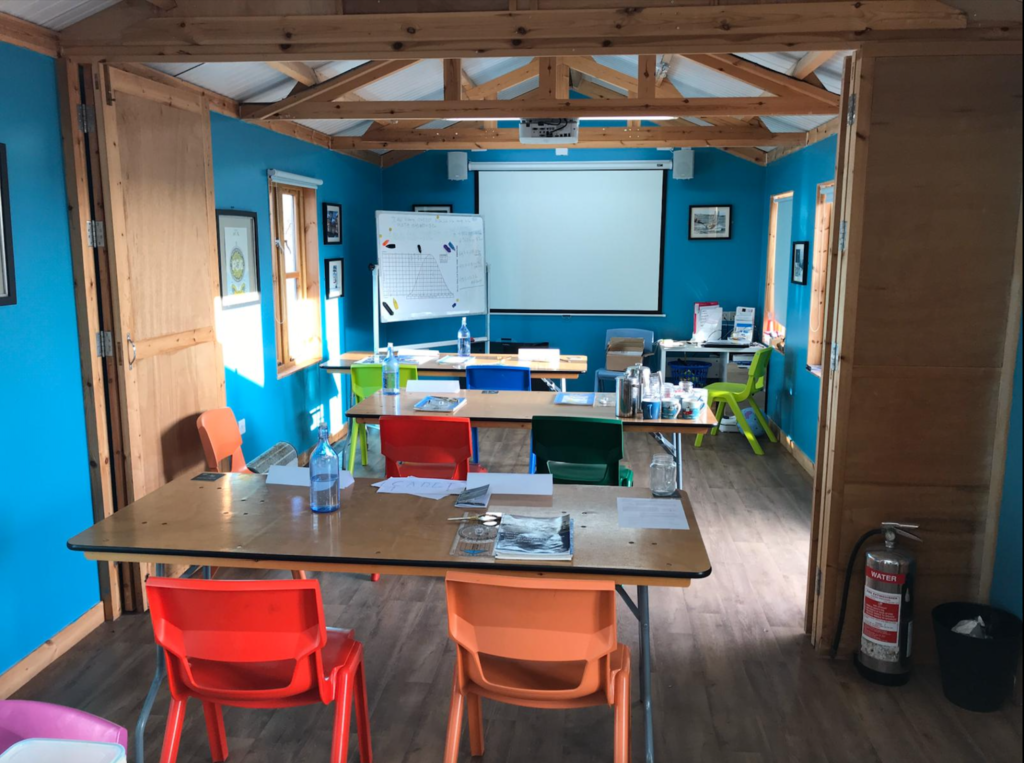 Let's wrap it up with the pros and cons:
Style
Pros
Cons
Classroom
● Very structured and efficient – usually 9 till 5 for one week, and you'll probably get that certificate at the end of it.
● Teacher right there who can answer your questions face-to-face.
● Good study environment. – The best thing about a classroom is the focused environment. A big desk, no other distractions except for other students around you who have the same motivation
● Expensive – usually £500 or more for the week, plus you'll need to provide your own travel, accommodation and food.
● Courses are usually rushed, with no spare time for repeating difficult sections or misunderstandings. If you get left behind, it becomes difficult to catch up.
● Long days – studying for a week straight with homework in the evenings is something not many adults are accustomed to.
● If you need to do a retake, you'll have to revisit the school another time. This could cause extra costs in time off work, accommodation and food.
Online
● Cheaper – around half the price of an in-person course and of course you don't need extra food or accommodation.
● Study at your own pace. If you don't understand something or find one part difficult. You can come back several times to properly digest it if you need to. This creates a far deeper level of understanding.
● Individual attention from instructors. They are not worried about keeping a whole class engaged or entertained whilst dealing with your question, so can respond to you in detail if required.
● You'll get to keep your navigation tools.
● Get to pick and choose which subjects you take and when.
● Free trials are available.
● Self-motivation is required! – The biggest downside to an online course is that you need the willpower to complete it yourself. It's not an attendance exercise and you'll have to click the 'next' button yourself. You'll have to make time for breaks too!
● Networking – or lack of! But Ardent Training combats this with student discussion and community features.
● With some course providers, your instructors can only be contacted by email and it can take several days for a reply. With others (like Ardent Training) this isn't a problem and you'll get a response to your question in minutes, 7 days a week.
Conclusion – Where Should You Take Your RYA Day Skipper Course?
I have thought long and hard about this over the years and it took me a while to accept that sitting at your computer could be a viable alternative to being face to face with an instructor. However, having taught both ways and seeing the resulting level of knowledge in my students, I have to recommend learning online.
Still not sure if it's for you?  No problem, many providers of online courses (Ardent Training included) offer free trials and money-back guarantees, so why not give it a go and decide for yourself.  If it's not for you, the classroom courses will still be there!
If you want any more advice, you can always contact one of our team at Ardent Training. Just drop us an email at info@ardent-training.com or give us a call on 01688 325025.
If you can't wait to get started, check out our Free Trial of our RYA Day Skipper online theory course.