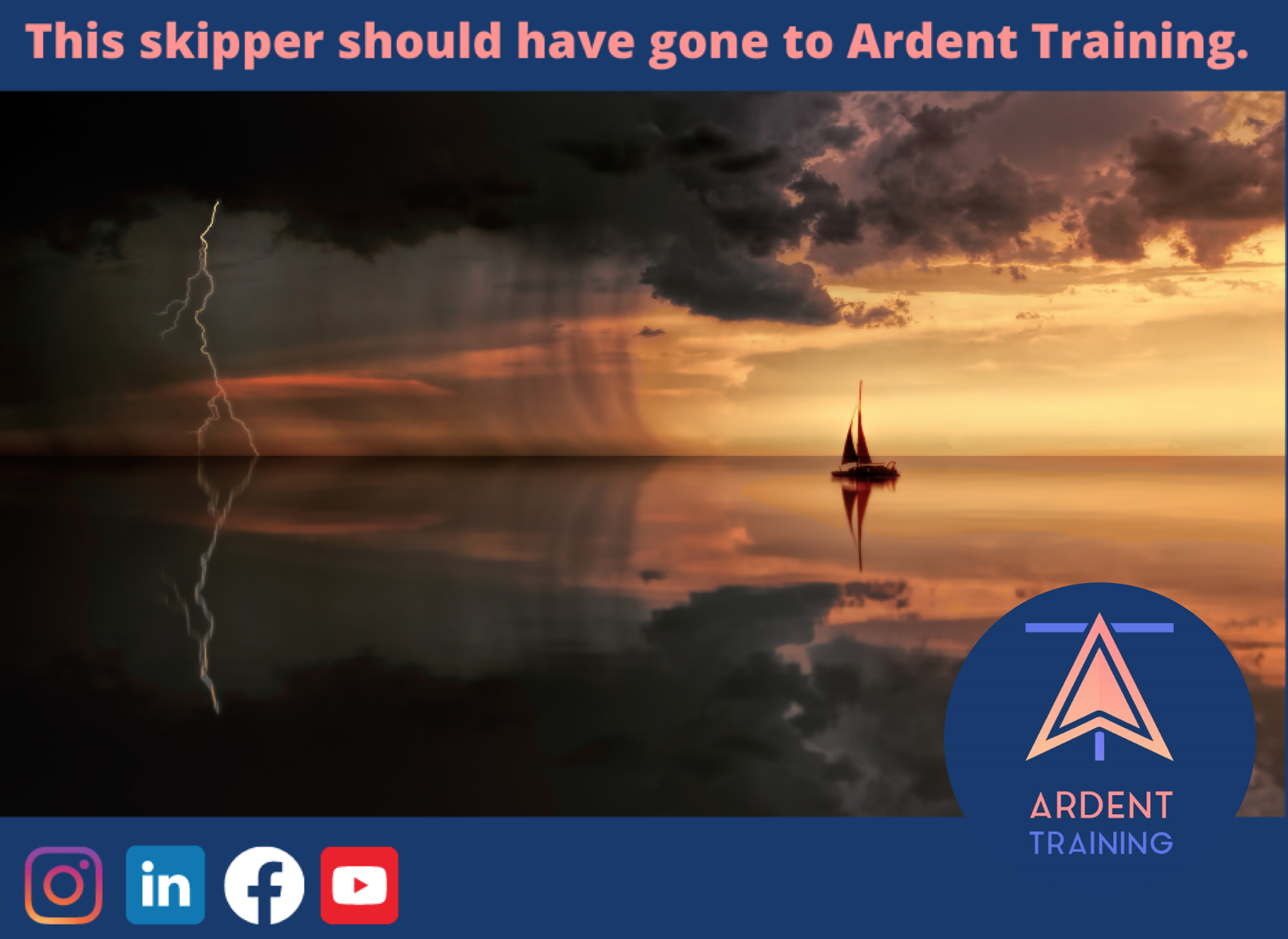 How To Get Qualified With Sailing Courses – RYA, ASA, IYT
Getting out on the water for the first time can be a daunting task, and navigating through the range of sailing courses and qualifications can be overwhelming. In this blog, we are going to explain the different yachting schemes available around the world (ASA, RYA etc), the qualifications they can offer, and discover the best path for you.
This applies to anyone wanting to sail or motor any yacht under 500 tonnes, most yachts are only around 10 tonnes!
Do I Need Sailing Qualifications/Licences?
If you keep your boat in the UK, only sail in the UK, and your boat is under 24m long, then no, technically you don't. However, if you want to charter a boat, sail anywhere else in the world, or want to keep your insurance renewals low then a qualification or two is essential!
Finally, it's not just about the licence, do you really want to take out your pride and joy, that probably cost 10's if not 100's of thousands, and try your luck? There is a lot of training and knowledge involved in becoming a skipper and working towards a qualification is the best approach to gaining the skills and knowledge.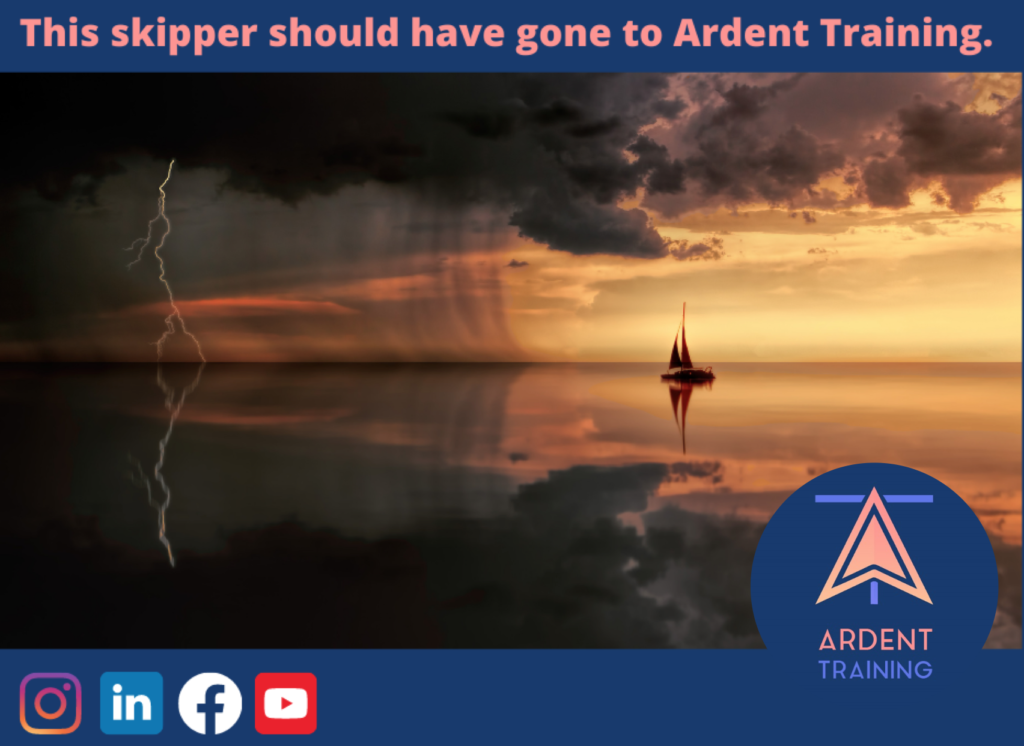 How To Get Qualified
We have decided it is a good idea to get some qualifications, now how do we achieve them? Before picking a school or instructor, you first have to look at which association they belong to. There are many to choose from as most wealthy countries have their own associations with their own qualification schemes. Once an association has been picked we can start looking at the appropriate qualifications, and finally, the schools that teach those qualifications.
RYA vs IYT vs ASA
Every qualification has to have an authorising body or association. You would be forgiven for thinking that just picking the most local yachting or sailing association is the way to go, but sailing is an international sport and hobby. Yachts can take us all around the world and we wouldn't want to limit our future selves by obtaining the wrong certificate. The three biggest associations are Royal Yachting Association (RYA), International Yacht Training (IYT) and American Sailing Association (ASA) so let's start by looking at those.
Royal Yachting Association
The RYA is the oldest and most internationally recognised governing body of dinghy, yacht, and motor cruising in the world. They were the first association to standardise training in the yachting industry and they have been going strong for nearly 150 years.
The RYA is equally focused on recreational boating as it is on professional boating which makes their qualifications particularly versatile.
Once you gain the RYA Day Skipper certificate you can easily convert it into either an ICC (international certificate of competence) which is free to do for RYA members or even get it commercially endorsed as a professional qualification without having to repeat any exams. The same can be said for the subsequent RYA Yachtmaster qualifications. This versatility and global reputation make the RYA qualifications a difficult route to beat.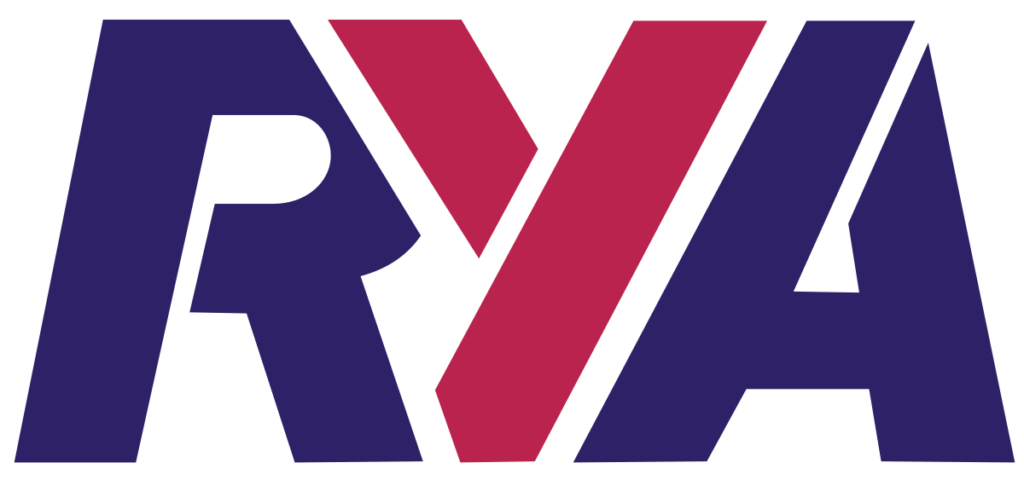 International Yacht Training
IYT is a relative newcomer and was founded in 1998. Despite being a relatively new organisation, it has made quite an impact and shaken up the yachting industry for the better. International Yacht Training forced the RYA to take a more international approach to their training and the International Certificate of Competence (ICC) was actually created by International Yacht Training. However, the RYA rapidly got on board with this and now offers the ICC to holders of its own qualifications without any further or retesting required. Put simply, you can easily convert RYA qualifications to IYT qualifications, but cannot convert IYT to RYA.
You would expect there to be a strong rivalry between these two organisations but instead, they appear to work well together and have both worked to make the ICC the internationally recognised qualification it is today.
The IYT also have a good offering of professional qualifications, allowing their holders to work in the industry and arguably offer the best set of qualifications for those wishing to go on to working on superyachts. IYT are without a doubt a well-regarded association worldwide, but despite this, these newcomers are much less well known than the RYA and have far fewer training centres around the world, making their qualifications harder to obtain.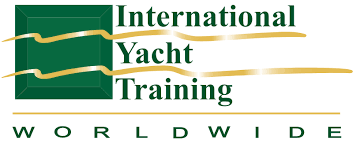 ASA
The ASA is the most prominent sailing association in America. They are solely targeting recreational sailors and have a well thought out approach to this market. Whilst they are less well known internationally, and they don't offer the same options to progress into professional sailing, they do offer a good alternative to the ICC called the International Proficiency Certificate (IPC). Officially, the IPC is the only recognised yachting ticket in the USA when it comes to chartering boats, however, in reality, the ICC will usually be accepted.

Conclusion
If you only want to sail in the USA, the ASA will probably do. However, for the most versatile qualifications, internationally recognised, for recreation and professional use, as well as the easiest to find training centres for, is, without doubt, the RYA. I chose the RYA when I learnt to sail and it has never once held me back from all my adventures. On the other hand, I have met many sailors who gained other qualifications elsewhere (ASA, IYT, SA Sailing, Australian Sailing, etc…) who have had to retest at some point to get their RYA tickets.
The RYA wins hands down.
RYA Cruising Scheme – Day Skipper to Yachtmaster
Okay, so RYA it is, but which RYA course should you start with?
The RYA offers many courses from complete beginner courses to celestial navigation courses. Where you start really depends on your prior experience and what you want to achieve. This diagram outlines the progression and entry points into the RYA Cruising Scheme: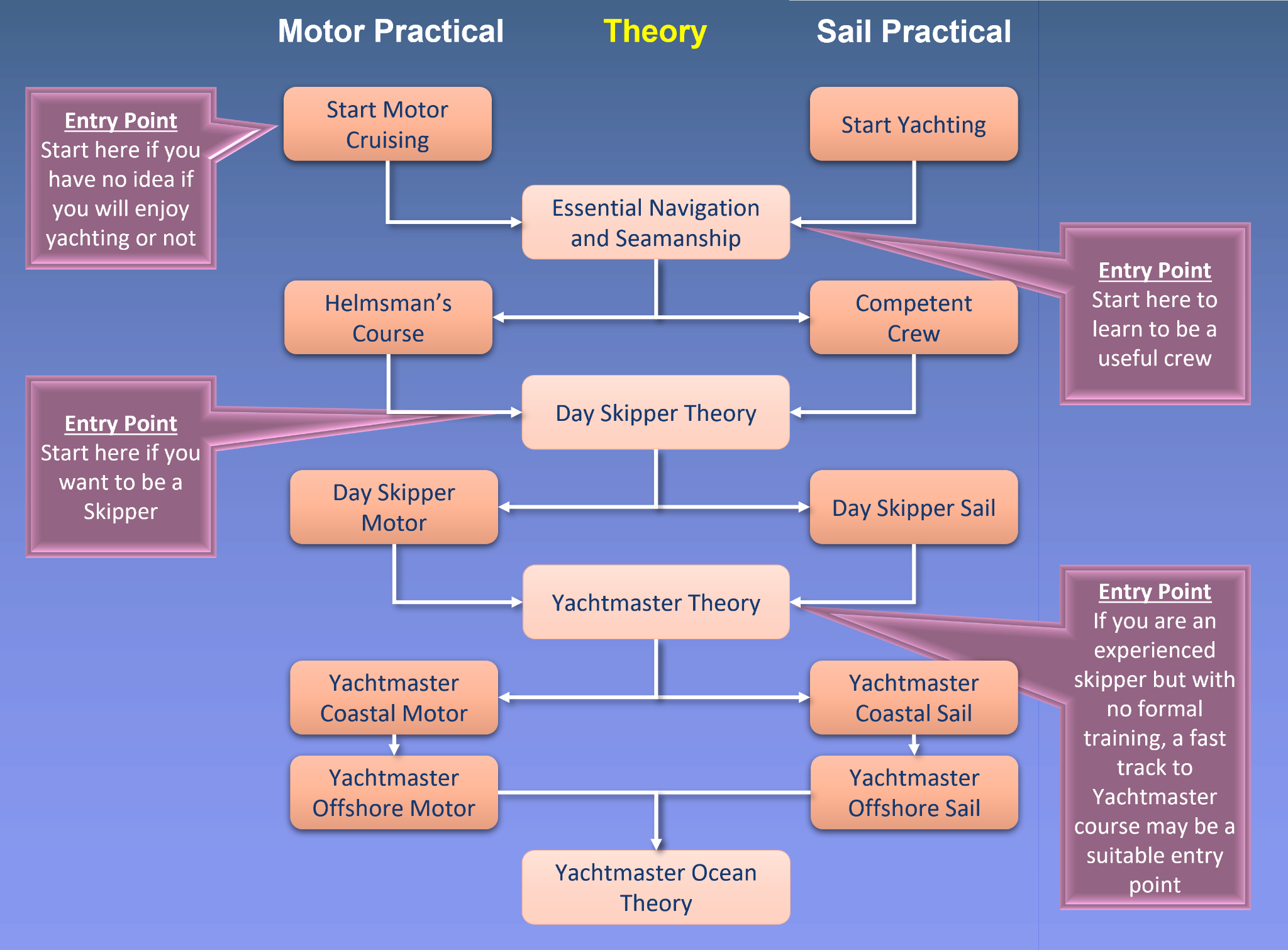 Up until Day Skipper, you can really jump in at any point depending on your ambition. However, once you reach Day Skipper Practical, each course assumes you have a certain amount of prior experience and knowledge, usually exactly equivalent to the course that came before it. Watch out when trying to jump or skip courses from Day Skipper Theory and onwards as you will often get caught out by your fragmented knowledge and either downgraded or simply fail the course.
Conclusion
There are lots of courses to suit your needs and lots of different entry points depending on our experience. If it seems a bit overwhelming we can make this simpler if we ask the question: Why do you want to take a course?
If you just want to try out being on the water for the first time, go for Start Yachting, or Start Motor Cruising.
If you want to learn to be a useful crew, start at Essential Navigation and Seamanship.
If you want to learn to be a skipper, start with Day Skipper Theory.
If you are already an experienced yachtsman and want qualifications to back it up, start with the Fast Track to Yachtmaster.
Choosing An RYA Sailing School
Finally, we know what course we want to take, now we just need to find somewhere to take it! The RYA has over 2,500 recognised training centres around the world. That's a lot to choose from! Luckily, we are here to help make the right choice for you.
RYA Theory – Online Vs Classroom
There has been a recent shift from classroom learning to online learning. We did a lot of research into this and found the benefits of online learning to be so great that we have fully switched over to this medium and embraced e-learning. We believe we can provide a much better quality theory course with the aid of technology and are proud to be producing some of the best-prepared students for their practical training. By removing the need for travel and the cost of premises and accommodation, we have found we can offer a tailored experience for each of our students at a far more reasonable cost.
We actually wrote a whole blog on Online Vs Classroom courses so if you want to find out more, I urge you to check it out: Can You Really Learn to Sail Online? Or, if you are already sold on the idea of an online course, head on over to our website and give our Free Trial a go.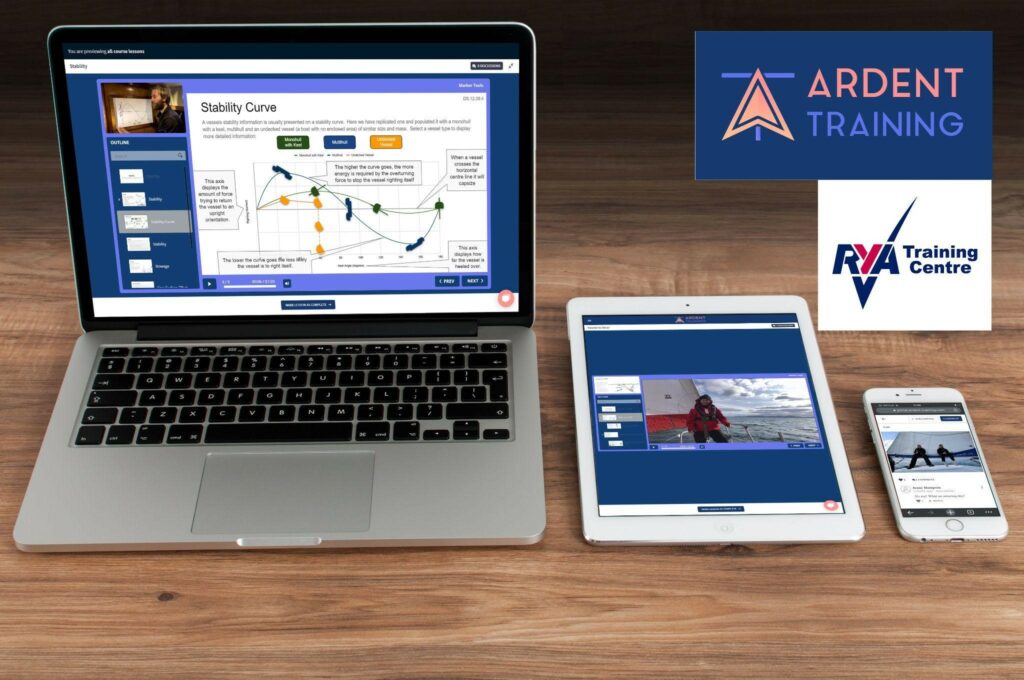 RYA Practical Centres
There are a lot of factors to consider when choosing a practical centre, first and foremost, where do you want to sail? Some people just want somewhere local, some want adventure, and some want sun. Think carefully about where you want to sail and make a holiday out of your practical course in the right location.
Once you have a location in mind, time to start searching. There will no doubt still be multiple options but remember, cheaper is not better! There isn't a large profit margin on RYA courses, so if a training centre is cheap, they are probably cutting corners. The first corners to cut are instructor wages and vessel maintenance so getting a cheap course may just result in your hard-earned money getting wasted on inexperienced instructors and poorly maintained vessels. This is not worth the savings as it will severely impact your enjoyment and how much you can get out of the course.
Armed with that advice, we recommend using the RYA's Find a Training Centre tool to help you find the best training centre for you: https://www.rya.org.uk/wheres-my-nearest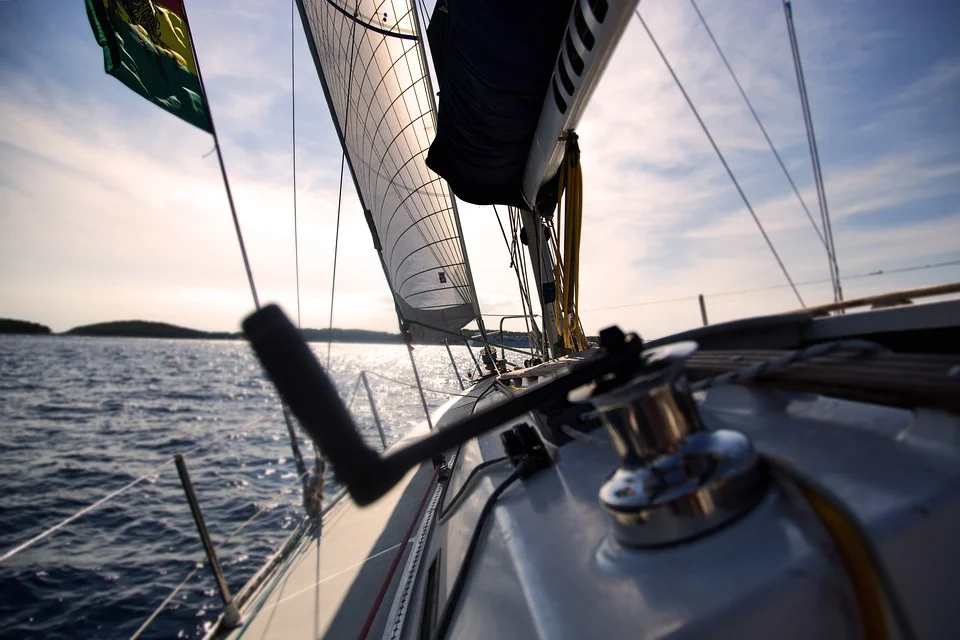 Closing
So, what have we learned?
You need qualifications to charter a boat.
Qualifications will lower your insurance premium.
Qualifications will help you learn, stay safe, and enjoy your time on the water.
Go with RYA qualifications for maximum versatility and recognition.
If you want to be a Skipper, you need the RYA Day Skipper certificate.
Take your theory courses online with Ardent Training.
Choose where you want to learn to sail (in the sun or somewhere close to home?)
Go quality over price to get more out of your training.
If you want any more advice, you can always contact one of our team at Ardent Training. Just drop us an email at info@ardent-training.com or give us a call on 01688 325025.
If you can't wait to get started, check out our Free Trial of our RYA Day Skipper online theory course.